Grand Cayman's World-Famous Wreck Dive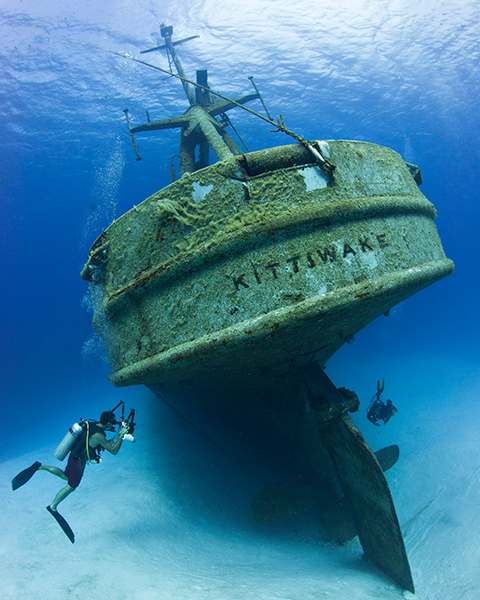 On January 5, 2011 following seven years of planning and preparation, the ex-USS Kittiwake was successfully sunk in a protected marine park off the northern end of Seven Mile Beach. She was the first US Navy ship to be given to a foreign government. There are many reasons to visit Grand Cayman's newest watersports attraction.
At 251 feet long with a 42 foot beam, she is one of the largest shipwreck attractions anywhere.
There are five decks with safe and easy access into the interior where divers can visit the decompression chambers, the engine room, the bathrooms and shower unit, the galley and crew quarters, and the chart room and captain's bridge, to name but a few.
The wreck sits upright on the white, sandy bottom set against the backdrop of the deep blue Caribbean water. The deepest part is at 60 feet and the shallowest (the bridge and smoke stack) lies less than 15 feet from the surface, making it ideal for divers and snorkelers alike.
Colonies of garden eels inhabit the sand around the wreck, weaving back and forth. The occasional stingray flies by. Schools of horse eye jacks and huge, lonesome barracuda hang silvery and motionless near the mast. And with each passing year, new corals and sponges encrust the wreck, bringing with them more marine life that wants to make it home.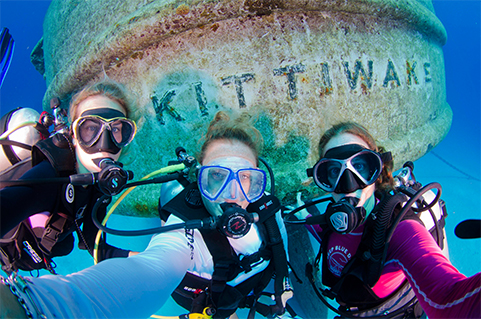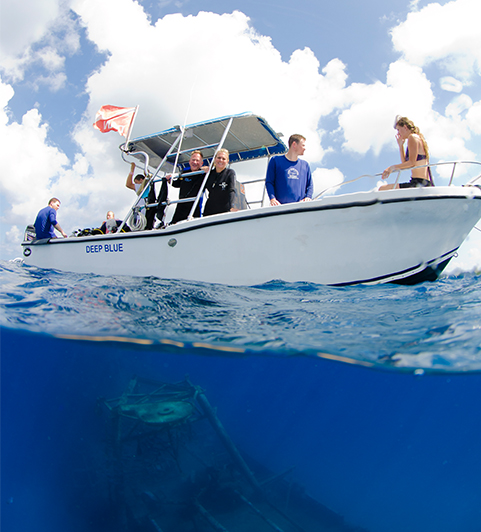 History of the ex-uss kittiwake
Designed as a submarine supply ship, the USS Kittiwake was built in Savannah, Georgia, USA. It launched on July 10th 1945 and was assigned to support and rescue duty with Submarine Squadron 6.
In the 1950's she was stationed in the Atlantic and served 'silent service' ships. In July of 1960, the USS Kittiwake stood ready to assist the George Washington, which launched the first successful Polaris ballistic missiles.
During the 1960's, she continued to support submarines in Rota, Spain and Greece. She then assisted with search and recovery of torpedoes while stationed in Norfolk, Virginia. In late 1965 the Kittiwake assisted in the recovery of a German submarine (S-171).
In 1984 the Kittiwake collided with the attack submarine, USS Bergall. To blame was a mis-wired main drive which caused it to operate in the opposite direction than expected. The bridge personnel saw the submarine approaching and ordered an increase in speed to avoid the collision, to no avail.
The USS Kittiwake was decommissioned on September 30, 1994 and purchased by the Cayman Islands government in 2004.