Scuba Diving on Grand Cayman
Wall Diving, Reef Diving, Wreck Diving, Grand Cayman has it all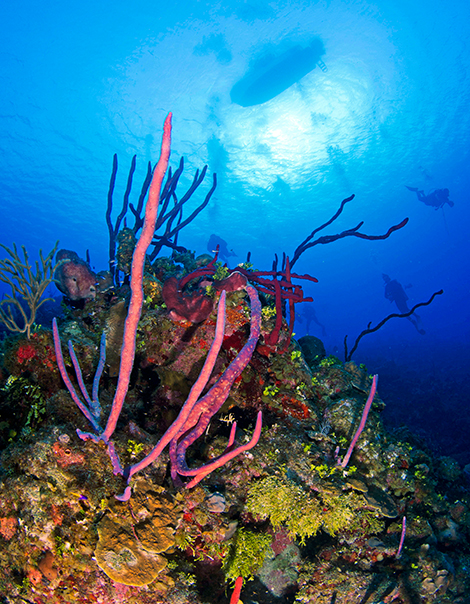 The Cayman Islands are world-renowned for being an underwater playground and the top diving destination in the Caribbean. Diving Grand Cayman will expose you to an incredible assortment of walls, caves, caverns, tunnels, chutes and swim-throughs; as well as thousands of species of fish and corals.
A combination of deep wall and shallow reef diving, year-round 80 degree water temperatures, underwater visibility that is second to none, calm seas and virtually no current provide a wealth of opportunity for anyone interested in getting in, under or on the water, whatever their level of experience.
Dive 365, a unique program designed by CITA (Cayman Islands Tourism Association) in 2008 to develop and maintain 365 separate Cayman dive sites, provides a different site to dive on every single day of the year. Not only does it allow divers to explore the spectacular underwater landscape, the program also provides for certain sites to be rested, thus preserving the precious marine environment and alleviating the environmental impact of diving at more popular sites.
Grand Cayman diving can be divided into four areas: north, south, east and west. Superlative diving at each is dependent upon what Mother Nature throws at us in terms of prevailing wind and sea conditions. However, the most consistently calm and clear diving can be found along the west and south sides and, to a slightly lesser extent, the north side.
Wreck diving in the Cayman Islands is becoming increasingly popular as it provides a dramatic diving experience, as well as attracting thousands of species of fish. There are a number of spectacular wrecks around the islands and, as more marine life inhabits these sites, the better they get. The ex-USS Kittiwake is arguably Grand Cayman's most popular dive.
Diving here will surely be the highlight of your visit to the Cayman Islands. Whether it's a dedicated Cayman dive vacation or your first dive experience, diving on Grand Cayman will provide you with lasting memories.