Learn to Dive on Grand Cayman - Dive Courses for Beginners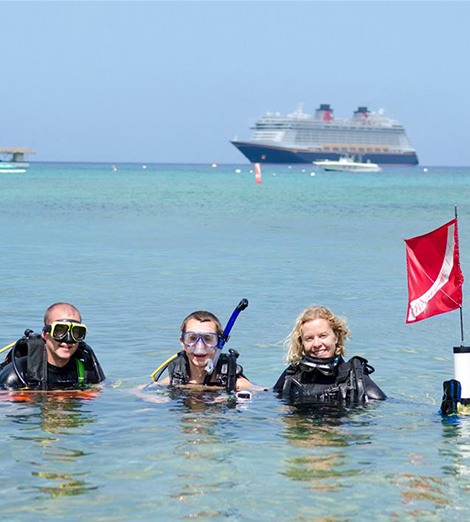 Discover Scuba Diving
A great introduction to SCUBA in just a few hours! No prior experience required. Must be medically fit and minimum age 10.
Spend around 45 minutes with your instructor receiving an orientation to diving and an introduction to your equipment before learning some basic scuba skills in the calm, clear shallow water right outside the dive training facility.
Then experience the thrill and adventure of your first open water dive on Cheeseburger Reef, just a few fin kicks away, to no deeper than 40ft /12m. Here you'll encounter tropical fish, coral formations and a whole host of other marine life that we can guarantee will put a smile on your face that will last all day!
The PADI Discover Scuba Diving course may be credited towards a PADI Scuba Diver or PADI Open Water Diver Course – your instructor can give you details. And if you really loved your dive but don't have time to complete a full certification course, you can join us for additional dives without repeating the skills.
---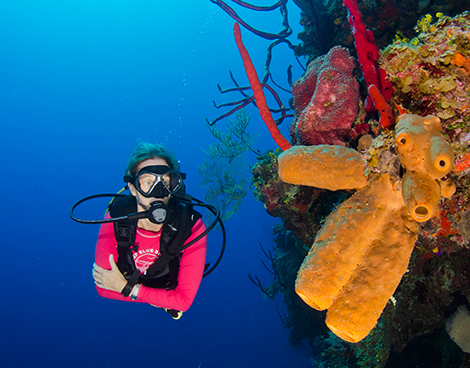 Padi Scuba Diver course
A short course for those with limited time! No prior experience required. Must be medically fit and minimum age 10.
This course takes you halfway to PADI Open Water Diver level and certifies you to dive to a maximum depth of 40ft/12m under the supervision of a PADI Pro.
You will complete the first three theory sections, master important scuba skills from the first three confined water dives and make the first two open water dives from the PADI Open Water Diver course to earn your Scuba Diver certification.
You can upgrade to PADI Open Water Diver level wherever and whenever you wish by completing the remainder of the Open Water Course.
---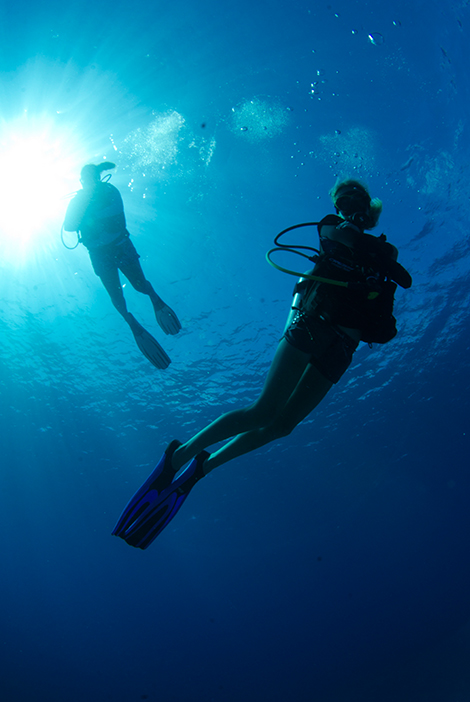 PADI Open Water Diver Course
The dive course that provides you with a passport to the underwater world! No prior dive experience required but basic swimming skills are necessary. Must be medically fit and minimum age 10.
The most popular entry-level dive course in the whole world certifies you to dive independently to a maximum depth of 60ft/18m. You'll also be certified to book dive excursions, rent scuba equipment, obtain air fills and to enrol in PADI Continuing Education courses (PADI Adventure Diver, PADI Advanced Open Water Diver and PADI Specialties).
Your dive instructor will take you through the fundamentals of safe scuba diving, including dive equipment, techniques and dive planning.
You can choose how to complete the dive theory section of the course – either eLearning or in the classroom with your instructor.
You'll master important scuba diving skills during five confined water sessions in the calm, clear shallow lagoon alongside the dive training facility.
And you'll progress onto the open water, making four open water dives on Cheeseburger Reef and beyond.
Once you've completed this course, you could say 'The World's Your Oyster' (or is that Lobster?)!
---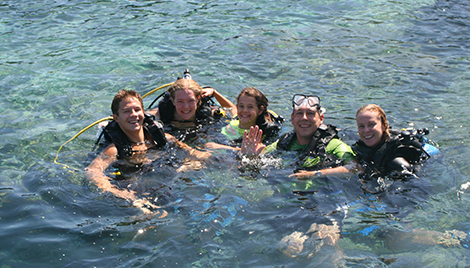 PADI Referral Program
If you complete the dive theory and confined water portions of the Open Water Diver course elsewhere, you can make your Open Water training dives (checkout dives) here with us on Grand Cayman. You'll need to bring your completed referral paperwork with you from your referring dive center.
The PADI Referral Program can be used for any other dive course too. Just have the dive center that started your training sign your training record and bring it to us so we can complete the training.